elsimple

Coach

From: Woodbridge, NJ

Registered: 2019-05-28

Posts: 603
Jersey Attitude Hosting 2Day Tournament on Nov 13-14 for 16U/18U
Jersey Attitude Hosting a 2 Day Tournament  Nov 13&14 for 16U/18U. "LAST AT BAT BATTLE ". To register please click on the link  below
https://www.leaguelineup.com/formprevie … rmID=98371
* To reserve your spot for your team please visit the homepage www.allshoresoftball.com and on the right hand side click on All-shore/Jersey Attitude fall tournament  *
Dates: Saturday November 13th  & Sunday November 14th
Entry Fee: $575 for 16/18u (1 division combined)
Location: Perth Amboy complex
2 to 3 softball fields with lights
Level: OPEN
Some games if needed under the lights - NO REQUEST
Format: Pool play Saturday (Game 1,2 & 3)
All teams advance to single game playoff game on Sunday (Game 4 )
2 UMPS on ALL of Sunday's elimination games
Teams: 4 to 12 per division
Minimum Games: 4 (weather permitting)
Maximum games: 4 to 6
Bathrooms on premises
Limited Concession stand provided by tournament staff
Plenty of parking
Team and individual trophies will be awarded to 1st and 2nd place teams providing tournament is full
IMPORTANT NOTE:
Placement in the tournament is based on a first come, first serve basis. Registrations will be processed in the order they are received and payment MUST be received by All-shore & Jersey Attitiude  within one week to secure your place in the tournament. If payment is not received Jersey Attitude reserves the right to cancel your registration and accept another team in your place. If you have any questions please email us at jbaldassare1029@gmail.com to confirm your registration.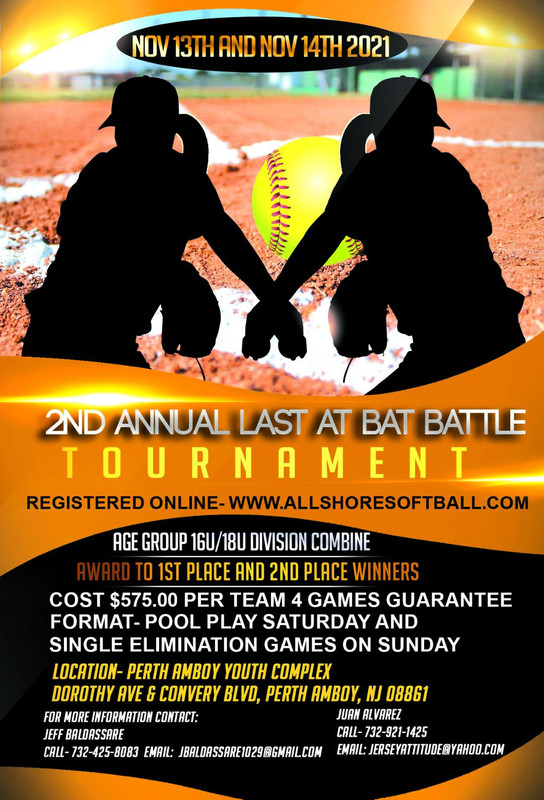 ---
Jersey Attitude 16U GUEST PITCHER NEED it for June 14,15 Tournament. We are located at Woodbridge NJ. Please email me if you are interested at elsimple123@yahoo.com
Coach Juan thank you